Jen grew up in New Jersey and remained close by for college (BA, Douglass College of Rutgers University, in Classics – Greek and Latin, 2000) and graduate school (MA, University of Pennsylvania, in Classical Studies, 2004), before moving to Western Massachusetts, where she has resided since. She teaches Latin (and occasionally Greek) at East Longmeadow High School, a public 9-12 school in East Longmeadow, MA, where she is also the head of the department of Classical and Modern Languages and the advisor of the school GSA.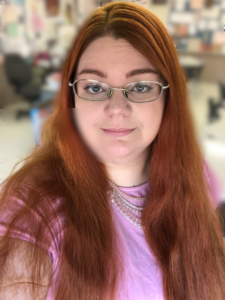 Pedagogical Interests
I am passionate about the importance of inclusivity and representation in education in general, but in Classics, particularly, with special attention to the needs of students who are LGBTQ+. I have given talks at CAM and CANE about ways to include trans and gender non-conforming students specifically in the Classics classroom, as well as workshops for my district's faculty and staff on how to better support LGBTQ+ students and workshops at state and regional conferences for LGBTQ+ students and allied educators (including on the topic of LGBTQ+ stories from Greek and Roman mythology and history). I also serve on my school's committee for equity and inclusion to make sure that all of our students can feel safe and supported at school.
My other main interest in education is in proficiency-based instruction of world languages, teaching and learning focused on what students can do with a language, rather than just what they know about it. In Latin, I am a huge proponent of reading-based methods of acquisition and working with authentic materials in a way that is comprehensible to students. My colleagues in my department and I have been working to develop curriculum and instruction that rely on student engagement in the target language, not just grammar study, in both modern languages and Latin. In summer 2019, we were invited to present our progress in this area to the Massachusetts Foreign Language Association's annual "Proficiency Academy;" I also served in Spring 2020 on a committee for the MA Department of Elementary and Secondary Education that is revising our state curriculum frameworks to reflect current best practices in world language teaching and learning.
diversity, equity, and inclusion
proficiency-based curriculum and instruction for world languages